Sony Pictures Television has launched a YouTube channel fronted by Nairobi-born restaurateur and celebrity chef Kiran Jethwa.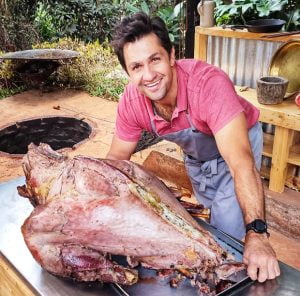 Kiran Jethwa: Fearless Food will feature a series of original episodes produced by Nairobi-based Quite Bright Films, in which Jethwa demonstrates exciting and unique ways to cook familiar and unfamiliar foods in ways that stretch culinary boundaries.
Jethwa is known in Kenya as host of African culinary show Tales from the Bush Larder and as a judge on The Great Kenyan Bake Off. Since 2016 he has been a co-host of UK pubcaster Channel 4's Food Unwrapped and Extreme Food.
In addition to original content, the channel will use and showcase footage from Tales from the Bush Larder and another Jethwa-fronted show, Fearless Chef.
Sarah Edwards, senior VP of international creative development at SPT, said: "Fearless Food is SPT's second dedicated YouTube channel following the launch of Impossible Science in 2020, which has created over 50 videos to date and over 26 million views worldwide.
"We're always on the lookout to work with and showcase brilliant talent and Kiran brings to the screen the unique ability to combine his natural culinary flare with his love for adventure. His approach to food and ingredients has already built a fantastic following, and we are really excited to be launching this channel and bringing him to a global audience."
tagged in: Extreme Food, Food Unwrapped, Kiran Jethwa, Kiran Jethwa: Fearless Food, Sony Pictures Television, Tales from the Bush Larder, The Great Kenyan Bake Off, YouTube