Entertainment content market Mipcom takes place next week from October 14 to 17 in Cannes, France, with this year's theme being The Streaming Offensive.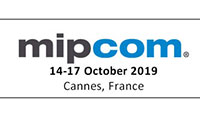 The event will aim to reflect the changes in global distribution networks, their impact on content production and licensing, and the global response to the direct-to-consumer challenge.
Nigerian companies at the event will include Basement Animation, Multi Mesh Broadcasting Company, Asake Productions, Kaftan TV, International Development Initiative in Africa and a host of others.
Mipcom brings together influential TV and digital content executives and this year will present a production funding forum where producers and financiers can meet and bring premium content projects to life. It will also see the launch of new streaming platforms by legacy players, including SVoD and AVoD, plus creative exchanges, networking, screenings and talks.
The preceding MipJunior event, on October 12 and 13, will host major animation producers from South Africa, Nigeria and Ivory Coast as they present their development slates ripe for international collaboration.
Simon Adae, CEO of Arobase Studio, Mbuotidem Johnson, CEO of Basement Animation and Vanessa Ann Sinden, producer at Triggerfish Animation, will provide a 30-minute showcase to reveal their projects and discuss possible business opportunities.
On his Instagram page, Mbuotidem said: "It's an honour to be invited by [event organiser] Reed Midem this year to speak at MipJunior – another great opportunity to share, network and make Nigeria proud. We are changing the narrative of the Nigerian animation industry. I sense a strong wave coming in 2020."
tagged in: Arobase Studio, Asake Productions, Basement Animation, International Development Initiative in Africa, Kaftan TV, Mipcom, MipJunior, Multi Mesh Broadcasting Company, Triggerfish Animation