Netflix rolls out free plan in Kenya
Global streaming platform Netflix has launched a free plan in Kenya to enable audiences to view its content ad-free on their Android mobile phones.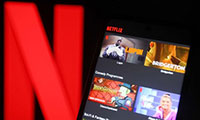 The move comes as the US company looks to boost subscriptions in Africa, a market of 1.2 billion people that is rapidly embracing video-on-demand services.
Netflix has also been commissioning more African content, such as its first African original series Queen Sono and other shows such as movie Blood Sisters and reality show Young, Famous & African.
As well as these African originals and many acquired Nollywood titles, Kenyans will also be able to enjoy movies such as Blood & Water, Bridgerton, Army of the Dead and other popular films and series.
Netflix's move comes as subscription video-on-demand (SVoD) is predicted to explode in Africa, with the number of people paying for SVoD subscriptions across the continent set to reach 15.06 million by 2026, according to new research from UK-based Digital TV Research.
Netflix's subscribers are expected to double to 5.84 million by 2026 and it will still be the continent's most popular SVoD service. However, its share of the African SVoD market is predicted to fall to 39% by that year as rival services gain popularity.
"If you've never watched Netflix before – and many people in Kenya haven't — this is a great way to experience our service. And if you like what you see, it's easy to upgrade to one of our paid plans so you can enjoy our full catalogue on your TV or laptop as well," said the company in a statement.
"The free plan will start rolling out in Kenya over the next few weeks. We hope it's a great match and that many of the people who try our free plan love Netflix so much that, over time, they upgrade to a full, paid subscription."
tagged in: Blood Sisters, Famous & African, Netflix, Queen Sono, Young