Interswitch SPAK contest winner crowned
The winner of the first televised Interswitch SPAK national science competition has been announced.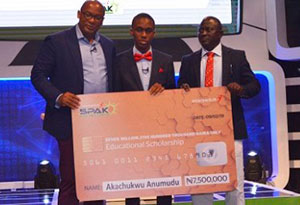 Sixteen-year-old Akachukwu Anumudu of Apostolic Faith Secondary School, Anthony, Lagos beat eight other contestants to take the prize.
After coming top in various levels of the competition, Akachukwu won the grand prize of N7.5m worth of tertiary education scholarship spread over five years, a laptop and a monthly stipend during the course of the scholarship.
He said: "Whenever I see people win at competitions, I always wondered if I could ever get that lucky. But now I know it's beyond luck and I am glad that all my sleepless nights and hard work paid off. I am very grateful to Interswitch because they made me who I am today. Before now, I was very shy and reserved, but my whole experience at the Interswitch SPAK 1.0 has helped build my confidence and prepared me for the future."
Mitchell Elegbe, group MD and founder of pan-African electronic payment and digital commerce company Interswitch Group, said: "You have emerged winner of this competition and that makes you a very special person. However, you must remember that although having a high IQ is necessary, it is not sufficient for success in life. We hope you will take all you have learnt during this competition and apply it where necessary. We wish you greater success in life and we will be with you every step of the way."
Henry Umunna of the Loyola Jesuit College, Abuja was the first runner-up who won N4m-worth of scholarship spread over three years, while Onyedikachi Kanu, from Dority International School, Aba, won N1m for one year.
The innovation challenge was won by Team Neptune, made up of nine SS2 students who developed a technology solution that provides Nigerians with easy access to National Health Insurance.
They were given a medal and a laptop each as well as a chance to take part in a two-week internship programme at Interswitch's head office in Lagos.
Other prize winners were awarded N500, 000 each as consolation prizes for being in the top nine, while the last woman standing, Glory Okoli, was given an additional N250, 000.
The initiative was spearheaded by Interswitch and the show aired on DSTV's Africa Magic Channel 154.
tagged in: Africa Magic, Akachukwu Anumudu, Interswitch Group, Interswitch SPAK, Mitchell Elegbe