African OTT revenues tipped to top $1.7bn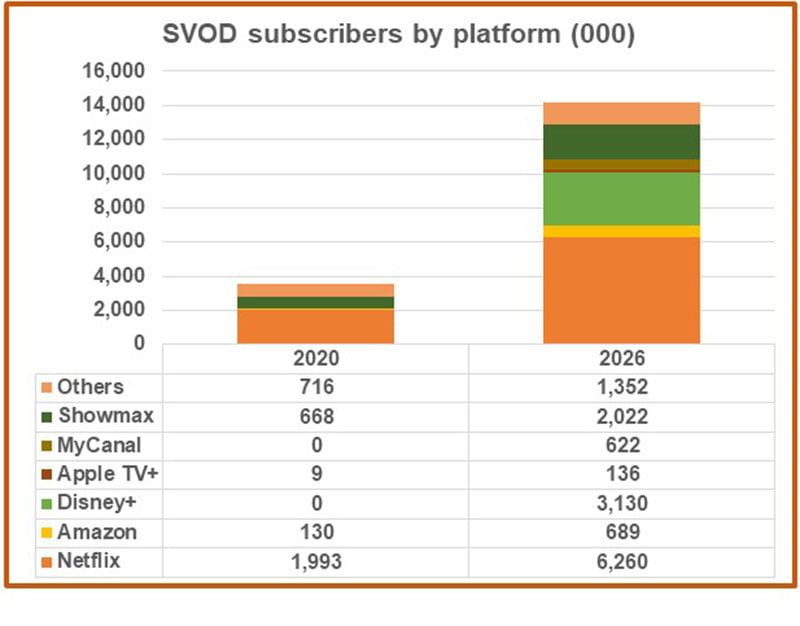 Revenue from OTT platforms in Africa is expected to more than quadruple in the next five years, according to a report by UK-based analysis firm Digital TV Research.
The report, titled Africa OTT TV & Video Forecasts, predicts revenue from movies and TV series on OTT platforms in Africa will reach US$1.7bn by 2026, up from US$392m in 2020.
SVoD platforms will be the main revenue driver by a long way, bringing in US$1.5bn of the total, up from US$299m last year.
Netflix accounted for 57% of Africa's SVoD subscriptions by end-2020 with almost two million subscribers. This figure is expected to more than triple to 6.3 million by 2026.
Disney+ will not launch in Africa until 2022 but is predicted to attract 3.1 million subscribers by 2026, making it the second-highest performer in terms of subscriptions.
In third place is local player Showmax, which at end-2020 had 668,000 subscribers and is forecast to reach two million by 2026.
Meanwhile, the report predicts Amazon Prime Video will see subscriber numbers increase to 689,000 in the next five years, up from 130,000 at the end of 2020, while Canal+'s local streamer MyCanal, which launches in Africa this year, is expected to have 622,000 subscribers by 2026.
Apple TV+, which launched in Africa late last year, is predicted to experience subscription growth from 9,000 at end-2020 to 136,000 by 2026.
Other SVoD platforms will see their combined subscriptions grow to 1.4 million by 2026 from 716,000 at the end of 2020, according to Digital TV Research.
By nation, South Africa will contribute a third of the region's OTT revenue by 2026, with Nigeria bringing in a further fifth.
Simon Murray, principal analyst at Digital TV Research, said: "Regional players Showmax and MyCanal have upped their game in face of this added competition. Both of these platforms have sister pay TV companies. However, the SVoD platforms are emerging in their own right."
This article originally appeared on Content Nigeria sister site C21media.net
tagged in: Digital TV Research, Simon Murray